Aegopodium podagraria L., SE: Kirskål, DE: Giersch, NL: Zevenblad,
UK: Ground elder, Herb Gerard, Bishop's weed, Goutweed, Snow-in-the-mountain
Scientific name:

Aegopodium podagraria L.

Swedish name:

Kirskål

German name:

Giersch

Nederlandse naam:

Zevenblad

English name:

Ground elder, Herb Gerard, Bishop's weed, Goutweed, Snow-in-the-mountain

Family:

Apiaceae/Umbelliferae, Carrot or Parsley family, Flockblommiga växter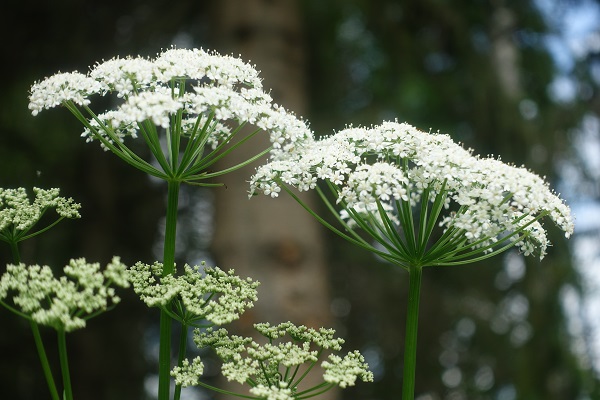 Life form:

Perennial, creeping rhizome

Stems:

Height 30-100cm, erect, hollow stems, upper part branching, base often reddish

Leaves:

Alternate; narrowly elliptic–ovate, base oblique, with serrated margins; stem leaves 3-lobed

Flowers:

Inflorescence a flat-topped compound umbel, secondary umbels 10–20; all umbels lacking bracts. The umbels of white flowers bearing a passing resemblance to the flowers of an Elder tree, the origin of this plant's common name. Petals 5, notched, tip recurved; calyx absent; stamens 5; pistil of 2 fused carpels, styles 2

Flowering Period:

June-August

Fruits:

Schizocarp

Habitat:

Damp soil and shady locations

Distribution:

Common to all types of cultivated land in the country, except in the mountain regions where it occurs more rarely





Derivation of the botanical name:
Aegopodium, may come from Aix- or Aig-, goat, and "-podium", foot.
podagraria, pod-, foot (a reference to the underground rhizomes), to which the term -agraria, meaning 'of cultivated land', is appended.
The standard author abbreviation L. is used to indicate Carl Linnaeus (1707 – 1778), a Swedish botanist, physician, and zoologist, the father of modern taxonomy.
At one time Aegopodium podagraria was also used in herbal remedies for arthritis and gout.