Allium schoenoprasum, SE: Gräslök, DE: Schnittlauch,
NL: Bieslook, UK: Chives
Scientific name:

Allium schoenoprasum L.

Swedish name:

Gräslök

German name:

Schnittlauch

Nederlandse naam:

Bieslook

English name:

Chives

Family:

Alliaceae, Onion family, Lökväxter
Life form:

Perennial herb

Stems:

Height 10-30 cm, stems roundish

Leaves:

Leaves roundish

Flowers:

Reddish-purple, violet flowers in an umbel (with an axis so short it appears the flowers all originate from the same point)

Flowering Period:

June-July

Fruits:

Capsule

Habitat:

Terrestrial, wetlands

Distribution:

Öland and Gotland, limestone soil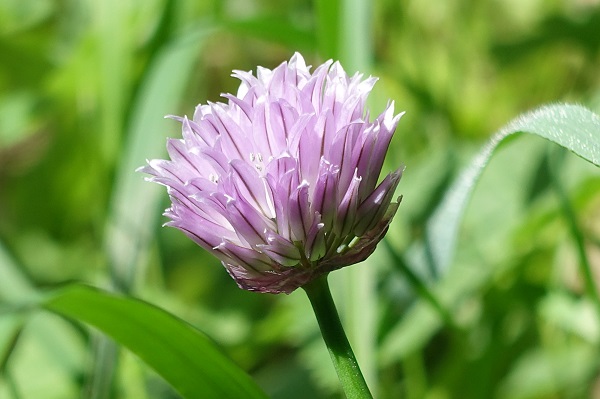 Derivation of the botanical name:
Allium, onion, chive and garlic. From the classical Latin name for garlic.
schoenoprasum, Greek skhoínos rush or reed; práson leek. The English name, chives, derives from the French word cive, from cepa, the Latin word for onion.
The standard author abbreviation L. is used to indicate Carl Linnaeus (1707 – 1778), a Swedish botanist, physician, and zoologist, the father of modern taxonomy.