Alopecurus pratensis, SE: Ängskavle, vanlig ängskavle (ssp. pratensis), fjällkavle,
DE: Wiesen-Fuchsschwanzgras, NL: Grote vossenstaart, UK: Meadow Foxtail
Scientific name:

Alopecurus pratensis L.

Synonym name:

Alopecurus pratensis L. var. alpestris Wahlenb. (ssp. alpestris)

Swedish name:

Ängskavle, vanlig ängskavle (ssp. pratensis), fjällkavle

German name:

Wiesen-Fuchsschwanzgras

Nederlandse naam:

Grote vossenstaart

English name:

Meadow Foxtail

Family:

Poaceae / Gramineae, Grass family, Gräs
Life form:

Perennial

Stems:

Up to 110 cm, decumbent to erect, 1–8 dm; nodes visible, brown

Leaves:

sheathes smooth and cylindrical, 5mm wide; hairless

Flowers:

Inflorescence panicle-like, generally cylindric, dense; branches short, 3.5–7.5 cm long, 6–10 mm wide; spikelet: glumes 4–5 mm; awn bent, exceeding lemma body by 2–5.5 mm; anthers 2–3.5 mm

Flowering Period:

April, May, June

Fruits:

Fruit glabrous

Habitat:

Farmland, meadows, beaches and ditches

Distribution:

Throughout the country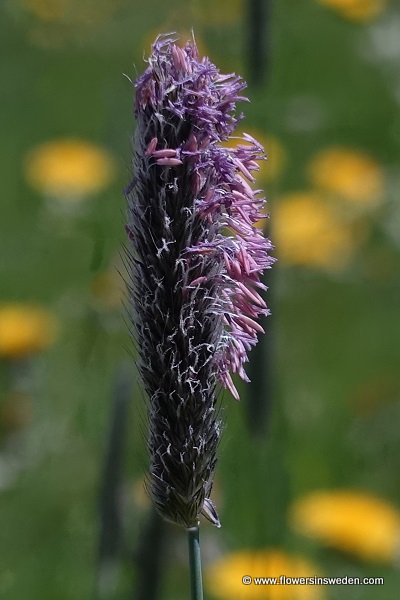 Derivation of the botanical name:
Alopecurus, Greek αλωπεκουροϛ, alopecuros a fox's tail.
pratensis, "in meadows", growing or found in meadows.
The standard author abbreviation L. is used to indicate Carl Linnaeus (1707 – 1778), a Swedish botanist, physician, and zoologist, the father of modern taxonomy.
Alopecurus pratensis is usually confused with Phleum pratense (Timothy-grass). Timothy flowers later from June until August. The spikelets of Timothy are twin horn like projections arranged in cylindrical panicles, foxtail has a soft, single awn.