Aruncus dioicus, SE: Plymspirea, DE: Wald-Geißbart,
NL: Geitenbaard, UK: Goat's beard, Buck's-beard, Bride's feathers
Scientific name:

Aruncus dioicus (Walter) Fernald

Swedish name:

Plymspirea

German name:

Wald-Geißbart

Nederlandse naam:

Geitenbaard

English name:

Goat's beard, Buck's-beard, Bride's feathers

Family:

Rosaceae, Rose family, Rosväxter
Life form:

Perennial herb

Stems:

Height 100cm, erect, unbranched, bushy, clump-forming plant

Leaves:

Alternate, pinnately compound, leaflets lanceolate and sharp double-sawed

Flowers:

Plume-like spikes of tiny, pale yellow-white colored flowers

Flowering Period:

June-July

Fruits:

Capsule, pendant, glabrous, 3mm long

Habitat:

Urban woods, roadsides, waste ground

Distribution:

Feral in southern and central Sweden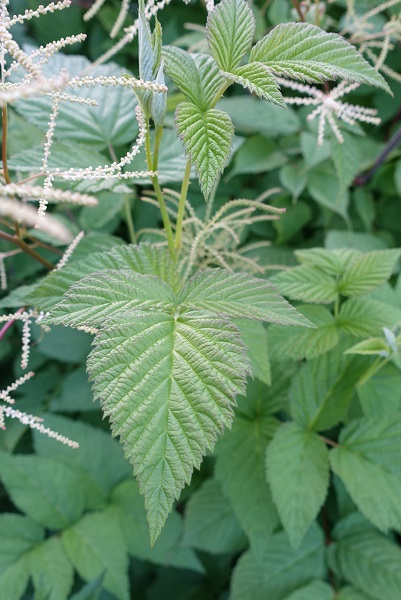 Derivation of the botanical name:
Aruncus, Latin aruncus "the beard of the goat," a classical name used by Pliny for herbs commonly known as 'goat's beard'"
dioicus, Latin for dioecious, referring to the species having separate male and female plants.
The standard author abbreviation Walter is used to indicate Thomas Walter (c. 1740 – 1789), a British-born American botanist.
The standard author abbreviation Fernald is used to indicate Merritt Lyndon Fernald (1873 - 1950), an American botanist.