Caltha palustris, SE: Kabbleka, kalvleka, DE: Sumpfdotterblume,
NL: Gewone dotterbloem, UK: Yellow marsh marigold
Scientific name:

Caltha palustris L.

Synonym name:

Trollius paluster Krause

Swedish name:

Kabbleka, kalvleka

German name:

Sumpfdotterblume

Nederlandse naam:

Gewone dotterbloem

English name:

Yellow marsh marigold, Cowslip, Kingcup

Plant Family:

Ranunculaceae, Buttercup family, Ranunkelväxter
Life form:

Perennial

Stems:

Hairless and hollow

Leaves:

rounded to kidney-shaped, finely crenate along the margins, and glabrous

Flowers:

5-9 bright yellow, well-rounded, and slightly overlapping sepals, a thick ring of abundant stamens, a cluster of carpels in the center.

Flowering Period:

April, May, June

Fruit:

Seedpod (follicle) is flattened and recurved; it splits open along the upper side to release the seeds.

Habitat:

Common throughout the country, swamps, ditches and along beaches.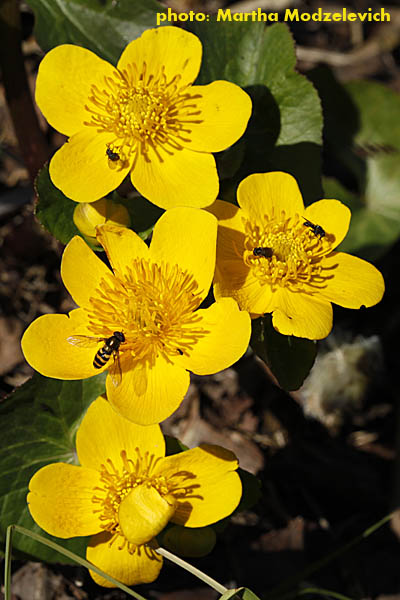 Derivation of the botanical name:
Caltha, Greek calathos, meaning a cup or goblet, and refers to the shape of the flowers.
palustris, swampy, marshy.
Trollius, from the German name Trollblume, Globe flower.
The standard author abbreviation L. is used to indicate Carl Linnaeus (1707 – 1778), a Swedish botanist, physician, and zoologist, the father of modern taxonomy.
The standard author abbreviation Krause is used to indicate Johann Wilhelm Krause (1764 – 1842), a German botanist.
The plant is poisonous.