Centaurea montana, Cyanus montana,
SE: Bergklint, DE: Berg Flockenblome,
NL: Bergcentaurie, UK: Perennial Cornflower
Scientific name:

Centaurea montana L.

Synonym name:

Cyanus montana (L.) Hill

Swedish name:

Bergklint

German name:

Berg Flockenblome

Nederlandse naam:

Bergcentaurie

English name:

Perennial Cornflower

Family:

Asteraceae, Sunflower Family, Korgblommiga växter
Life form:

Perennial herb

Stems:

Height 45-60 cm, usually unbranched, winged, sparsely hairy; rhizomes

Leaves:

Alternate, greyish, entire, lanceolate

Flowers:

Flowers up to 7.5cm wide, single flower-like capitula surrounded by involucral bracts; capitulum ray-florets dark blue (sometimes light red, purple or white), obliquely funnel-shaped, lobed tip; disk florets purple, tubular. Stamens 5

Flowering Period:

June

Fruits:

Achene

Habitat:

Meadows and forest edges near buildings

Distribution:

Feral in southern and central Sweden.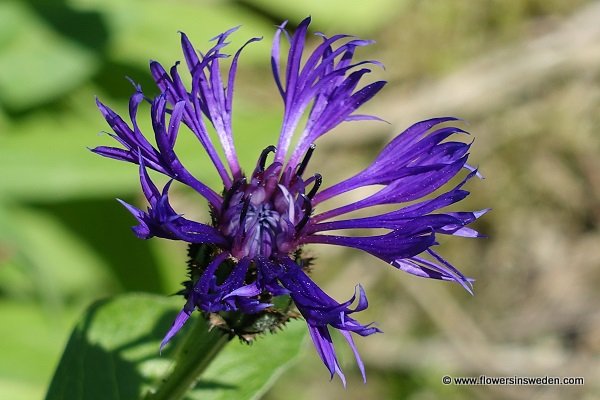 Derivation of the botanical name:
Centaurea, gets its name from the centaur, Chiron, who is said in mythology to have taught us the healing power of herbs.
montana,Latin mons, mountain.
The standard author abbreviation L. is used to indicate Carl Linnaeus (1707 – 1778), a Swedish botanist, physician, and zoologist, the father of modern taxonomy.
The standard author abbreviation Hill is used to indicate John Hill (c. 1714 – 1775), an English author and botanist.