Chrysosplenium alternifolium, SE: Gullpudra, Vanlig gullpudra,
DE: Wechselblättriges Milzkraut, NL: Verspreidbladig goudveil,
UK: Alternate-leaved Golden-Saxifraga
Scientific name:

Chrysosplenium alternifolium L.

Swedish name:

Gullpudra, Vanlig gullpudra

German name:

Wechselblättriges Milzkraut

Nederlandse naam:

Verspreidbladig goudveil

English name:

Alternate-leaved Golden-Saxifraga

Plant Family:

Saxifragaceae
Life form:

Perennial herb

Stems:

Height 5–15 cm, ground level or underground stems horizontal; rhizomatous; almost glabrous, but hairy at least at base

Leaves:

Mainly basal and distributed along the stems; sparsely hairy, kidney-shaped to round with sparse jagged edge, the lower leaves are long-stemmed and has a heart-shaped base.

Flowers:

Small gold-yellow, hermaphrodite, alternate-leaved flowers; sits in the flattened, top covered broom as bundles, they lack the crown but has four sepals, two pins and eight stamens.

Flowering Period:

April, May, June

Fruits:

Capsule; seeds dark brown–almost black

Habitat:

Swampy forests, often by streams and cold drafts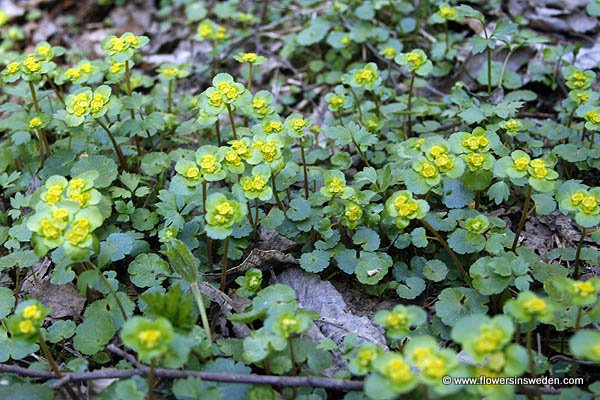 Derivation of the botanical name:
Chrysosplenium, Greek χρυσοϛ chrysos, "gold," and splynos, "the spleen" or splenion, "a pad or compress of linen," in reference to the sessile leaves.
alternifolium, alternating leaves.
The standard author abbreviation L. is used to indicate Carl Linnaeus (1707 – 1778), a Swedish botanist, physician, and zoologist, the father of modern taxonomy.
Chrysosplenium alternifolium is pollinated by beetles, flies, self. The plant is self-fertile.