Empetrum nigrum, SE: Nordkråkbär, kråkris DE: Zwittrige Krähenbeere,
NL: Kraaihei, UK: Crowberry
Scientific name:

Empetrum nigrum L.

Swedish name:

Kråkbär, kråkris

German name:

Zwittrige Krähenbeere

Nederlandse naam:

Kraaihei

English name:

Crowberry

Plant Family:

Ericaceae, Ljungväxter, Heath family
Life form:

Dwarf shrub

Stems:

Woody, low, creeping, horizontal much-branched stems; twigs curve upwarsd, reddish black, finely hairy

Leaves:

Evergreen, simple, whorled, needlelike, leatherly, dark green

Flowers:

Tiny three-parted, purplish flowers. Later wide, black, globose drupes

Flowering Period:

April-June

Fruits:

Round and berry like, shiny dark blue or black, very juicy, sweet with 6 to 9 reddish brown nutlets that are bitter.

Habitat:

Heaths, coasts, bogs and marshes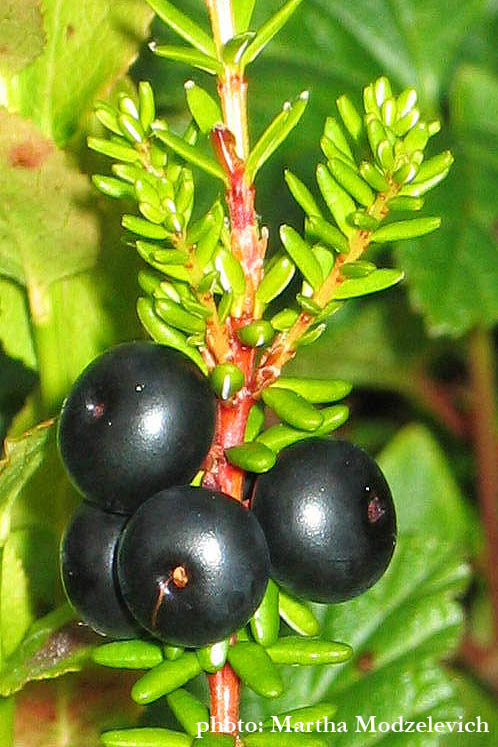 Derivation of the botanical name:
Empetrum (Greek) en, "upon", and petros, "rock", and refers to the rocky habitat that this species exploit.
Nigrum, "black", refers to the color of the fruit.
The standard author abbreviation L. is used to indicate Carl Linnaeus (1707 – 1778), a Swedish botanist, physician, and zoologist, the father of modern taxonomy.