Life form:

Annual herbaceous plant

Stems:

Erect, up to 1m high, ramified, 4-angular, the angles setose, glandular, downy

Leaves:

Opposite, entire, dentate

Flowers:

Corolla 2-3.5 cm long; its tube is 3-4 times longer than tube of calyx, with haired, pale-yellow, rather wide upper labia and dark-purple or lilac 3-lobed lower labia having two hollow horn-like projections and yellow spot at fauces

Flowering Period:

July-August

Fruits:

A four-parted schizocarp. Mericarp oval, flattened, brown.

Habitat:

woods, thickets, farmland and settlements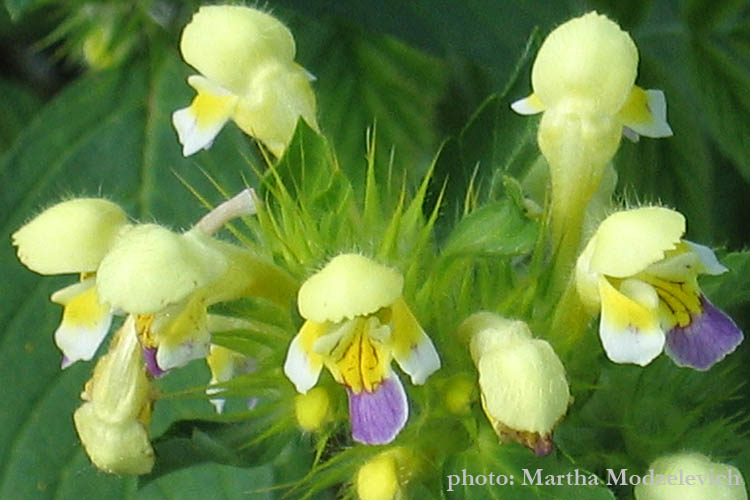 Derivation of the botanical name:
Galeopsis, from a Latin name used by Pliny for some nettle-like plant.
speciosa, specios, "beautiful, good looking", showy.
The standard author abbreviation Mill. is used to indicate Philip Miller (1691 – 1771), a Scottish botanist.
The standard author abbreviation Curtis is used to indicate William Curtis (1746 – 1799), an English botanist and entomologist.
Pliny the Elder (23-79CE), Natural History, book XXVII:LVII: "Galeopsis, called by some galeobdolon or galion, has stem and leaves like those of the nettle, but smoother, and giving off when beaten up an offensive smell."