Galium album, Galium erectum, SE: Stormåra, DE: Weißes Labkraut ,
NL: Glad walstro, UK: Hedge Bedstraw, white bedstraw
Scientific name:

Galium album Mill.

Synonym name:

G. erectum Huds., G. mollugo auct., G. mollugo ssp. erectum Syme, G. mollugo var. angustifolium Leeds, G. mollugo var. erectum auct.

Swedish name:

Stormåra

German name:

Weißes Labkraut

Nederlandse naam:

Glad walstro

English name:

Hedge Bedstraw, white bedstraw

Family:

Rubiaceae, Bedstraw family, Måreväxter
Life form:

Perennial

Stems:

Height 30-100cm; square, erect to procumbent, glabrous or hairy

Leaves:

spear-shaped leaves in whorls

Flowers:

Flowers 4 white petals; inflorescences very large, branching, bushy

Flowering Period:

June-August

Fruits:

Double achenes, crescent-shaped

Habitat:

In all sorts of cultural impact chips, which slopes, meadows and roadsides

Distribution:

From Skåne to Lapland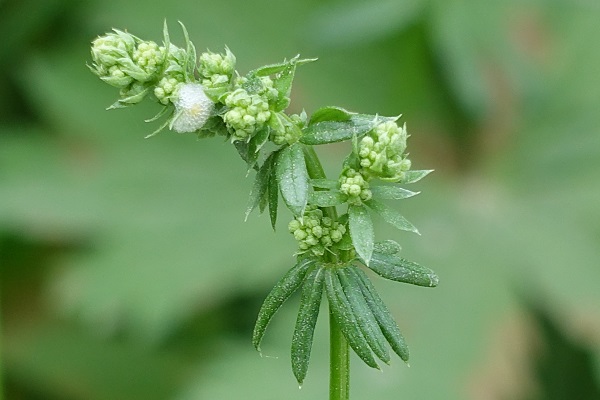 Derivation of the botanical name:
Galium from Greek word gala, "milk," and alluding to the fact that certain species were used to curdle milk.
album, white, and refers to the flower color.
The standard author abbreviation Mill. is used to indicate Philip Miller (1691 – 1771), a botanist of Scottish descent.