Leontodon autumnalis, Scorzoneroides autumnalis, SE: Höstfibbla,
DE: Herbst-Lövenzahn, NL: Vertakte leeuwentand,
UK: Autumn Hawkbit, Fall Dandelion
Scientific name:

Leontodon autumnalis L.

Synonym name:

Scorzoneroides autumnalis L. (Moench)

Swedish name:

Höstfibbla

German name:

Herbst-Lövenzahn

Nederlandse naam:

Vertakte leeuwentand

English name:

Autumn Hawkbit, Fall Dandelion

Family:

Asteraceae - Compositae, Aster family, Korgblommiga växter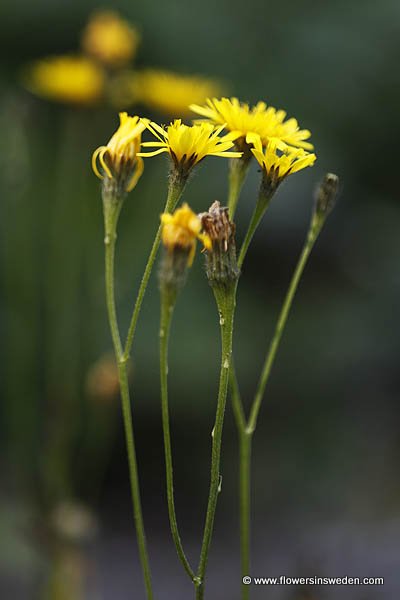 Life form:

Perennial

Stems:

Height 10-80 cm; short rhizomes; single or few stems, branched above, glabrous towards the base, and slightly hairy towards the flower heads; scale-like bracts on the flower stalks near the flower heads

Leaves:

Basal rosette; oblanceolate, 4-35 cm long, 5-40 mm wide, deeply lobed with glabrous or hairy surfaces

Inflorescence:

clusters of 2 to 5 flower heads

Flowers:

Involucral bracts, glabrous or hairy, narrow, 10-12 mm long; Yellow flowers, ligulate, 10-18 mm long with five teeth at the tips

Flowering Period:

July, August, September, October

Fruits:

Non-beaked cypselae, 4-7 mm long with pappus of feathery, 5-8 mm long bristles

Habitat:

Grasslands, pastures, roadsides and cultivated land.

Distribution:

Throughout the country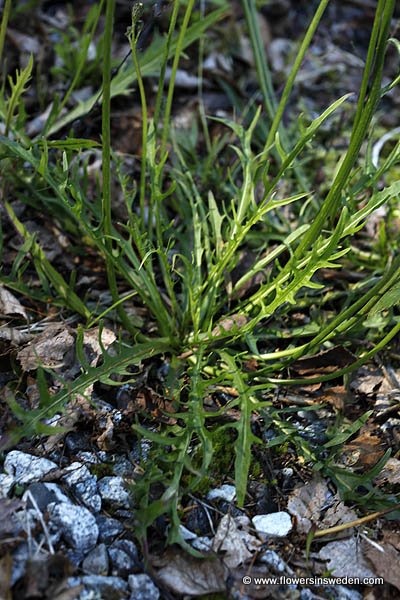 Derivation of the botanical name: br>Leontodon, leon, λεων, οντιϛ, a lion; odous, tooth, because of the toothed leaves.
autumnalis, pertaining to autumn.
Scorzoneroides, resembling Scorzonera, from Old French scorzon, a snake; possibly from the use of its root as a cure for snakebite.
The standard author abbreviation L. is used to indicate Carl Linnaeus (1707 – 1778), a Swedish botanist, physician, and zoologist, the father of modern taxonomy.
The standard author abbreviation Moench is used to indicate Conrad Moench (1744 – 1805), a German botanist.