Lilium bulbiferum, SE: Brandlilja, DE: Feuer-Lilie,
NL: Roggelelie, UK: Orange lily, Fire lily, Tiger lily
Scientific name:

Lilium bulbiferum L.

Swedish name:

Brandlilja

German name:

Feuer-Lilie

Nederlandse naam:

Roggelelie

English name:

Orange lily, Fire lily, Tiger lily

Family:

Liliaceae, Lily family, Liljeväxter
Life form:

Perennial herb

Stems:

Height 40-100cm, stem rigid, unbranched

Leaves:

Alternate, simple, dark green, lanceolate, sessile

Flowers:

6 upright tepals, the outer are slightly narrower than the inner ones; 5.5–8.5 cm wide, bright yellow-orange with reddish-brown dots; 6 erect stamens, about half as long as the tepals, with red anthers; style orange, 3.5cm high; 1–5-flowered umbels

Flowering Period:

July

Fruits:

Loculicidal capsules

Habitat:

In the vicinity of settlements

Distribution:

Througout the country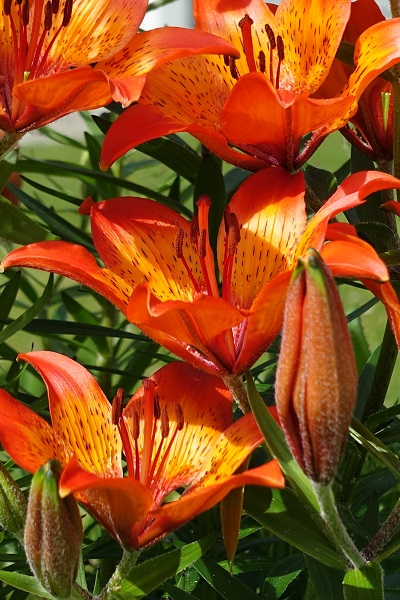 Derivation of the botanical name:
Lilium, Latin li, white; +lium, flower; Greek leirion, the name applied to the eastern Mediterranean Lilium candidum.
bulbiferium, Latin bulb onion and Ferre bear, the name refers to groddknopparna in the leaf axils.
The standard author abbreviation L. is used to indicate Carl Linnaeus (1707 – 1778), a Swedish botanist, physician, and zoologist, the father of modern taxonomy.