Linnaea borealis, SE: Linnea, giktgräs, DE: Moosglöckchen,
NL: Linnaeusklokje, UK: Twinflower
Scientific name:

Linnaea borealis L.

Swedish name:

Linnea, giktgräs

German name:

Moosglöckchen

Nederlandse naam:

Linnaeusklokje

English name:

Twinflower

Plant Family:

Caprifoliaceae / Linnaeaceae, Linneaväxter, Honeysuckle family
Life form:

Subshrub

Stems:

Trailing evergreen shrub, creeping over forest floor, forming loose mats with long woody, slightly hairy runner stems from which short leafy stems grow to 10 cm.

Leaves:

Opposite, evergreen, rounded oval leaves 3-10 mm long and 2-7 mm broad

Flowers:

Pale pink, pendulous, 7-12 mm long, five-lobed corolla, arranged in pairs at the end of y-shaped stalk.

Flowering Period:

June, July

Fruits:

Single seeded fruit with two partially enclosing bracts with viscid hairs adapted for animal dispersal

Habitat:

Woods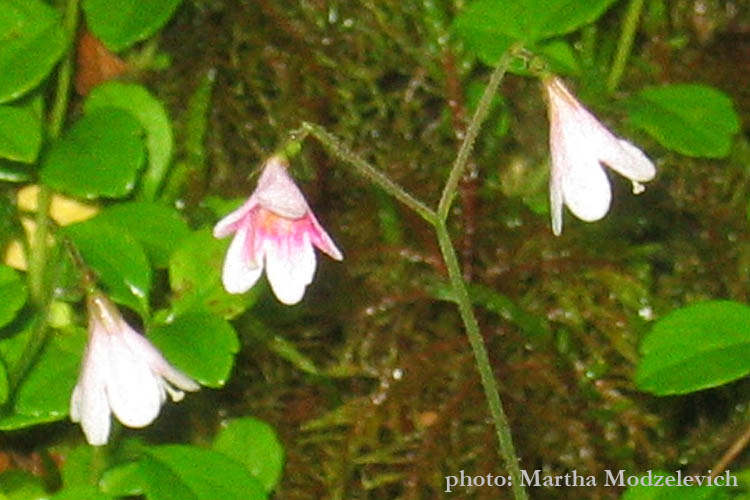 Derivation of the botanical name:
Linnaea, dedicated to Linneaus (1707)-1778), who laid the foundations for the modern nomenclature, who first pointed out this genus characters.
borealis, "northern" (word seldom used in Roman times).
The standard author abbreviation L. is used to indicate Carl Linnaeus (1707 – 1778), a Swedish botanist, physician, and zoologist, the father of modern taxonomy.