Lychnis flos-cuculi, Coronaria flos-cuculi, Silene flos-cuculi,
SE: Gökblomster, DE: Kuckuckslichtnelke,
NL: Echte koekoeksbloem, UK: Ragged-Robin
Scientific name:

Lychnis flos-cuculi L.

Synonym name:

Coronaria flos-cuculi A. Braun, Silene flos-cuculi (L.) Greuter & Burdet

Swedish name:

Gökblomster

German name:

Kuckuckslichtnelke

Nederlandse naam:

Echte koekoeksbloem

English name:

Ragged-Robin

Family:

Caryophyllaceae, Pink Family, Nejlikväxter
Life form:

Perennial

Stems:

Height 30–60 cm; with sparse, short, quite rough hairs, sticky

Leaves:

Opposite, basal leaves stalked, stem leaves stalkless; basal leaf blades narrowly spatulate, stem leaves' narrowly lanceolate–long, with entire margins

Inflorescence:

Cyme

Flowers:

rose–violet red; petals 5, deeply 4-lobed; calyx tube is five-toothed with ten stamens

Flowering Period:

June–July

Fruits:

Capsule, greenish, 5-valved, 8–13 mm

Habitat:

Springs, spring swamps, shores, damp shore meadows, road and field ditches, hay fields

Distribution:

Common in southern and central Sweden, but also occur rarely in the north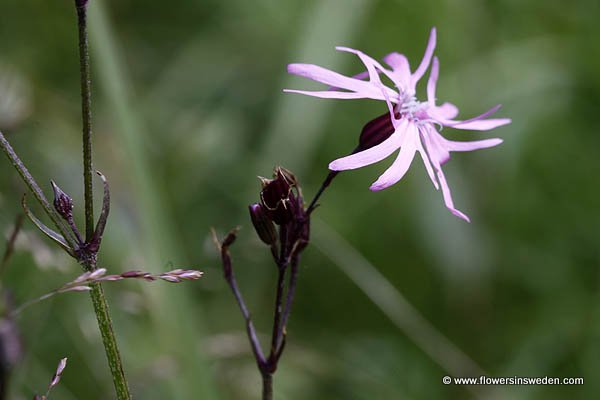 Derivation of the botanical name:
Lychnis, Greek lychnos, a lamp; in allution to the flame-colored flowers.
flos-cuculi, flos, "flower;" cuculus, "cuckoo bird"
Coronaria, corona (Latin), "crown"; coronaria, used for garlands, or pertaining for garlands.
Silene, probably from Greek sialon, "saliva," referring to gummy exudation on stems, and/or named for Silenus, intoxicated foster-father of Bacchus (god of wine) who was covered with foam, much like the glandular secretions of many species of this genus.
The standard author abbreviation L. is used to indicate Carl Linnaeus (1707 – 1778), a Swedish botanist, physician, and zoologist, the father of modern taxonomy.
The standard author abbreviation A. Braun is used to indicate Alexander Karl Heinrich Braun (1805 – 1877), a German botanist
The standard author abbreviation Greuter is used to indicate Werner Rodolfo Greuter (born 1938), a Swiss botanist.
The standard author abbreviation Burdet is used to indicate Hervé Maurice Burdet (born 1939), a Swiss botanist.