Lychnis viscaria, SE: Tjärblomster, DE: Gewöhnliche Pechnelke,
NL: Rode pekanjer, UK: Sticky catchfly
Scientific name:

Lychnis viscaria L.

Synonym name:

Silene viscaria (L.) Borkh.

Swedish name:

Tjärblomster

German name:

Gewöhnliche Pechnelke

Nederlandse naam:

Rode pekanjer

English name:

Sticky catchfly

Plant Family:

Caryophyllaceae, Pink family, Nejlikväxter
Life form:

Perennial

Stems:

Erect, unbranched, glabrous, underside of joints sticky and dark reddish brown

Leaves:

Rosette of long, lance-shaped, dark green leaves

Flowers:

Purple, pink, tubular, star-like flowers

Flowering Period:

May, June

Fruits:

5-valved, 6–9 mm long capsule

Habitat:

Bogs, marshes, pastures and meadows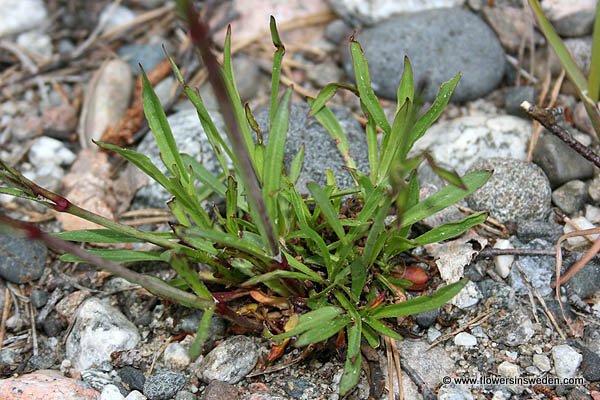 Derivation of the botanical name:
Lychnis, Greek lychnos, a lamp; in allution to the flame-colored flowers.
viscaria , viscum, birdlime: a sticky substance used to catch birds and made from mistletoe or holly; arius, adjective suffix for nouns or numbers: connected to or possessed by; sticky
Silene, probably from Greek sialon, "saliva," referring to gummy exudation on stems, and/or named for Silenus, intoxicated foster-father of Bacchus (god of wine) who was covered with foam, much like the glandular secretions of many species of this genus.
The standard author abbreviation L. is used to indicate Carl Linnaeus (1707 – 1778), a Swedish botanist, physician, and zoologist, the father of modern taxonomy.
The standard author abbreviation Borkh. is used to indicate Moritz (Moriz) Balthasar Borkhausen (1760-1806), a German naturalist.