Lysimachia punctata, SE: Praktlysing, DE: Punktierter Gilbweiderich,
NL: Puntwederik, UK: Garden Loosestrife, Yellow Loosestrife, Dotted Loosestrife
Scientific name:

Lysimachia punctata L.

Swedish name:

Praktlysing

German name:

Punktierter Gilbweiderich

Nederlandse naam:

Puntwederik

English name:

Garden Loosestrife, Yellow Loosestrife, Dotted Loosestrife

Family:

Primulaceae, Primrose Family, Viveväxter
Life form:

Perennial

Stems:

Height 45-60 cm, stiff upright stems

Leaves:

Simple, oblong ovate, black glandular dots

Flowers:

Bright yellow bowl-shaped flowers in terminal racemes or panicles, or solitary in leaf axils

Flowering Period:

June-July

Fruits:

Capsule

Habitat:

Anthropogenic (man-made or disturbed habitats), meadows and fields

Distribution:

Hardy in the far north of Sweden; originally cultivated species, which occurs quite commonly run wild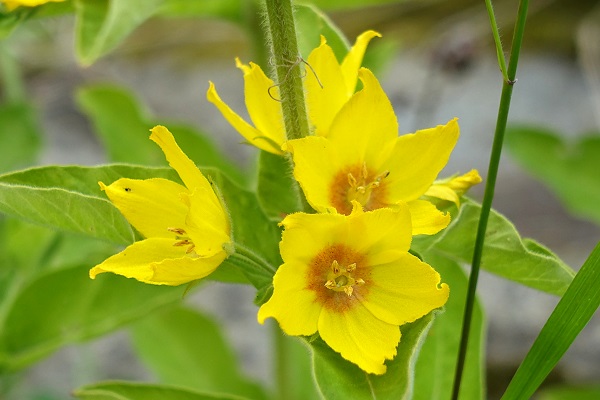 Derivation of the botanical name:
Lysimachia, named for Lysimachus (661-281 BCE.), Macedonian King of Thrace.
punctata, dotted.
Loosestrife, Greek lysimacheios loosestrife (as if from lysis act of loosing + machesthai to fight).
The standard author abbreviation L. is used to indicate Carl Linnaeus (1707 – 1778), a Swedish botanist, physician, and zoologist, the father of modern taxonomy.