Life form:

Annual Herb

Stems:

Height 10–30(50) cm, upright, generally branched from base; sweet-scented

Leaves:

Pinnately dissected and sweet-scented when crushed

Flowers:

Short-stemmed flower baskets, about half a centimeter wide, lacking ray florets; more than 50 yellow-green disk flowers

Flowering Period:

July-September

Fruits:

Achene, a cypsela, oblong to oblanceolate, mildly compressed, asymmetrical

Habitat:

Anthropogenic (man-made or disturbed habitats)

Distribution:

Throughout the country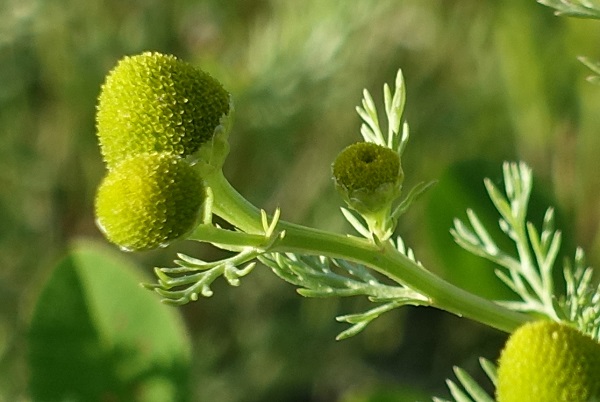 Derivation of the botanical name:
Matricaria, Latin matrix, the womb; mater, mother; caries, decay; because of its one-time medical use in affections of the uterus.
discoidea without rays, discoid.
The standard author abbreviation DC. is used to indicate Augustin Pyramus de Candolle (1778 – 1841),a Swiss botanist.
The standard author abbreviation Porter is used to indicate Thomas Conrad Porter ( 1822 - 1901), a botanist, theologian, educator, and poet.
The standard author abbreviation Britton is used to indicate Britton, Nathaniel Lord (1859 - 1934), an American botanist and taxonomist who co-founded the New York Botanical Garden in the Bronx, New York.
The standard author abbreviation Pursh is used to indicate Frederick Traugott Pursh (1774 –1820), a German–American botanist.
The standard author abbreviation Buchenau is used to indicate Franz Georg Philipp Buchenau (1831 – 1906), a German botanist and phytogeographer.