Melampyrum sylvaticum, SE: Skogskovall, DE: Wald-Wachtelweizen,
NL: Boszwartkoren, UK: Small Cow-wheat
Scientific name:

Melampyrum sylvaticum L.

Swedish name:

Skogskovall

German name:

Wald-Wachtelweizen

Nederlandse naam:

Boszwartkoren

English name:

Small Cow-wheat

Plant Family:

Orobanchaceae, Broomrape family, Snyltrotsväxter
Life form:

Annual

Stems:

Stems erect, simple or branched and up to 40 cm; branches ascending, in opposite pairs; base of both stem and branches softly hairy and tinged red-brown in larger plants. Hairs occur in two opposite rows on stem or branches in the plane perpendicular to branch of leaf emergence.

Leaves:

Opposite, narrow leaves

Flowers:

Opposite, deep yellow tubular flowers; after fertilization the petals often turn a distinctive bright brick-red or orange colour as they fade

Flowering Period:

June, July, August

Fruits:

Capsule narrowly ovoid, acuminate, dehiscing dorsally (1–) 2–4 seeds. Seeds ovoid, yellow brown, with pale elaiosome becoming black after dehiscence.

Habitat:

Humid parts of open woodlands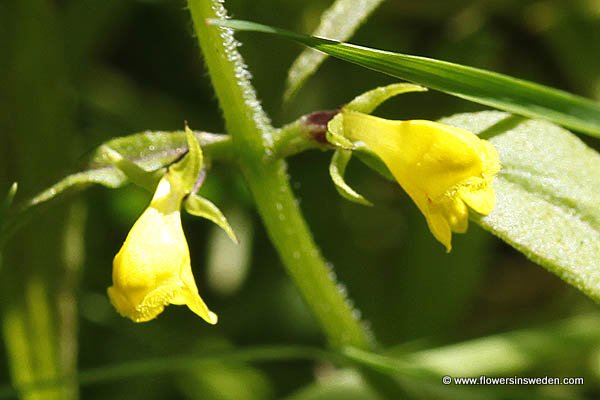 Derivation of the botanical name:
Melampyrum, from the Greek melas, "black" and pyros, "wheat", because the seeds made bread black when mixed with them.
sylvaticum from the Latin Sylva, "forest", and aimed at the plant site.
The standard author abbreviation L. is used to indicate Carl Linnaeus (1707 – 1778), a Swedish botanist, physician, and zoologist, the father of modern taxonomy.
Melampyrum sylvaticum is insect-pollinated. Ants have been reported to be the main dispersal agents and the seed bears an elaiosome which offers them a lipid-rich reward.