Parnassia palustris, SE: Slåtterblomma, DE: Sumpf-Herzblatt,
NL: Parnassuskruid, UK: Grass-of-Parnassus
Scientific name:

Parnassia palustris L.

Swedish name:

Slåtterblomma; synonym: hjärtblad, hjärtblomma

German name:

Sumpf-Herzblatt

Nederlandse naam:

Parnassuskruid

English name:

Grass-of-Parnassus, Marsh Grass-of-Parnassus, Northern Grass-of-Parnassus, Bog-star

Family:

Celastraceae, staff vine or bittersweet family, Benvedsväxter (Parnassiaceae, Slåtterblommeväxter)
Life form:

Deciduous, herbaceous perennial

Stems:

Height 5-25 cm, erect; usually 1-leaved, sometimes 2-leaved or leafles

Leaves:

Oval to heart-shaped

Flowers:

solitary terminating stems; sepals densely purple-brown punctate, elliptic or oblong; Cup-shaped,5 white petals, translucent nerves; stamens 5; pistil of 4 fused carpels, almost lacking style, with 4 stigmas; with claw, with scales or nectaries fringed with hairs, and yellow glands

Flowering Period:

July-September

Fruits:

Capsule ovoid, 4-lobed; Seeds brown, glossy, oblong

Habitat:

Fens, damp river-bank meadows and fells

Distribution:

All over Sweden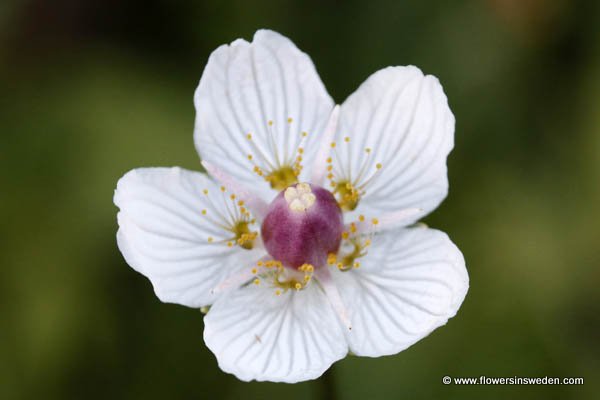 Derivation of the botanical name:
Parnassia, from Mount Parnassus in Greece, and was called gramen parnassium by Dodonaeus. In ancient times Mount Parnassus in Greece was said to be the home of Apollo and his muse – and grass of Parnassus is certainly as beautiful as any poem.
palustris, Palus, pool; growing in marshes.
The standard author abbreviation L. is used to indicate Carl Linnaeus (1707 – 1778), a Swedish botanist, physician, and zoologist, the father of modern taxonomy.