Pilosella aurantiaca, Hieracium aurantiacum, SE: Rödfibbla,
DE: Orangerotes Habichtskraut, NL: Oranje havikskruid,
UK: Fox-and-cubs, Orange hawkweed
Scientific name:

Pilosella aurantiaca (L.) F. W. Schultz & Sch. Bip

Synonym name:

Hieracium aurantiacum L.

Swedish name:

Rödfibbla

German name:

Orangerotes Habichtskraut

Nederlandse naam:

Oranje havikskruid

English name:

Fox-and-cubs, Orange hawkweed

Family:

Asteraceae, Sunflower family, Korgblommiga växter
Life form:

Perennial herb

Stems:

30–70cm (12–30 in.), stems with blackish hairs.

Leaves:

Basal rosette, lanceolate, or spatulate

Flowers:

Usually 1.5–2 cm (0.6–0.8 in.) wide, in tight clusters of up to ten flowers and composed of ray florets only.

Flowering Period:

June, July

Fruits:

Achene, round, grooved, 1.5–2.5 mm (0.06–0.1 in.) long, tipped with off-white–light brown unbranched hairs.

Habitat:

Meadows, shores, ditches, pastures, grazing land, meadows, rocky outcrops, forest margins, lawns, paths, parks, fell tundra.

Distribution:

In northern Sweden: in meadows and meadow birch forests in the mountain regions. In southern Sweden: parks, lawns and roadsides.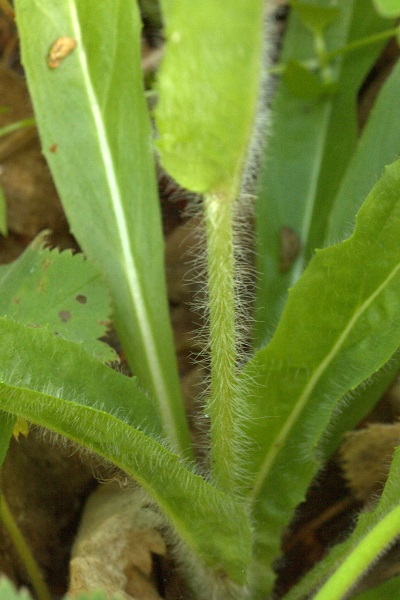 Derivation of the botanical name:
Pilosella Latin Pilosus, hairy.
aurantiaca, Latin aurantiacus golden yellow, referring to the center of the yellow-orange colored flowers.
Hieracium, Greek hierax, a hawk, from the fanciful tale that hawks sharpened their sight by anointing their eyes with the juice of one or other of the plants so named: Hawkeyed.
The standard author abbreviation L. is used to indicate Carl Linnaeus (1707 – 1778), a Swedish botanist, physician, and zoologist, the father of modern taxonomy.
The standard author abbreviation F.W.Schultz is used to indicate Friedrich Wilhelm Schultz (1804 – 1876), a German pharmacist and botanist.
The standard author abbreviation Schultz-Bip. is used to indicate Carl Heinrich 'Bipontinus' Schultz (1805 – 1867)), a German physician and botanist, and a brother to botanist Friedrich Wilhelm Schultz.