Pilosella dubia, Hieracium cymosum, Pilosella cymosa,
SE: Styvhårig kvastfibbla, DE: Trugdoldige Habichtskraut,
NL: een havikskruid, UK: a hawkweed
Scientific name:

Pilosella dubia (L.) F.W.Schultz & Sch.Bip.

Synonym name:

Hieracium cymosum L.; Pilosella cymosa (L.) F.W.Schultz & Sch.Bip.

Swedish name:

Styvhårig kvastfibbla (Kvastfibblor-Pilosella dubia-gruppen)

German name:

Trugdoldige Habichtskraut

Nederlandse naam:

een havikskruid

English name:

a hawkweed (Pilosella dubia Group)

Family:

Asteraceae, Sunflower family, Korgblommiga växter
Life form:

Hemi-cryptophyte

Stems:

Height 30-70cm, stem unbranched, hairy

Leaves:

Basal rosette, leaf blade linear-lanceolate, entire, sometimes finely srrated, hairy

Flowers:

Corymbs of yellow many-stellate flowers, flower 1.5-2 cm wide

Flowering Period:

June-July

Fruits:

Achene, roll-shaped, grooved, 1.5-2.5 mm long nut, filled to the top with an off-light brown, unbranched or weakly branched short hairs.

Habitat:

Dry sunny slopes, in forest clearings, screes, roadsides etc.

Distribution:

Almost the entire country, except in northernmost Norrland and in south.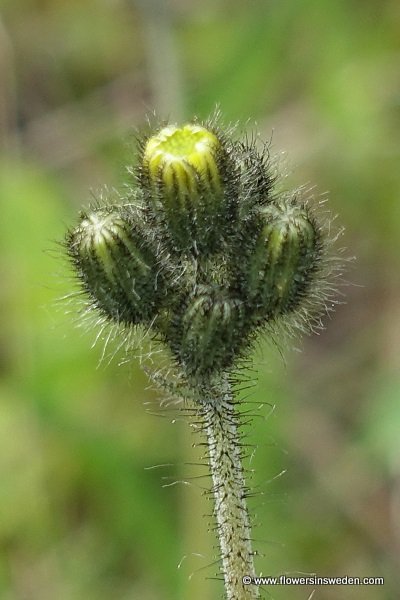 Derivation of the botanical name:
Hieracium, Greek hierax, a hawk, from the fanciful tale that hawks sharpened their sight by anointing their eyes with the juice of one or other of the plants so named: Hawkeyed.
cymosum full of, abounding in young sprouts.
Pilosella Latin Pilosus, hairy.
Dubia, the group name Dubia comes from the Latin dubium (doubt) and means doubtful.
The standard author abbreviation L. is used to indicate Carl Linnaeus (1707 – 1778), a Swedish botanist, physician, and zoologist, the father of modern taxonomy.
The standard author abbreviation F.W.Schultz is used to indicate Friedrich Wilhelm Schultz (1804 – 1876), a German pharmacist and botanist.
The standard author abbreviation Sch.Bip. is used to indicate Carl Heinrich Bipontinus Schultz (1805–1867), (Bipontinus, a Latinized reference to his birthplace- Zweibrücken), a physician, botanist, and a brother to Friedrich Wilhelm Schultz.