Pinguicula vulgaris, SE: Tätört, DE: Gewöhnliches Fettkraut,
NL: Gewoon vetblad, UK: Common Butterwort
Scientific name:

Pinguicula vulgaris L.

Swedish name:

Tätört

German name:

Gewöhnliches Fettkraut

Nederlandse naam:

Gewoon vetblad

English name:

Common Butterwort

Order:

Lamiales

Family:

Lentibulariaceae, Tätörtsväxter
Life form:

Perennial, 'carnivorous' herb.

Stems:

Height 10–20 cm (4–8 in.), leafless, with glandular hairs.

Leaves:

Sticky leaves, in basal rosette, short-stalked; leaf blade smooth, rigid, succulent, usually bright green.

Flowers:

Violet-blue flowers, a long, narrow and straight spur.

Flowering Period:

June, July.

Fruits:

Capsule, yellowish brown.

Habitat:

Fens, springs, shore banks, damp meadows, gravels, damp rock walls.

Distribution:

Throughout Sweden on damp ground; in southern and central Sweden most often on calcareous soil.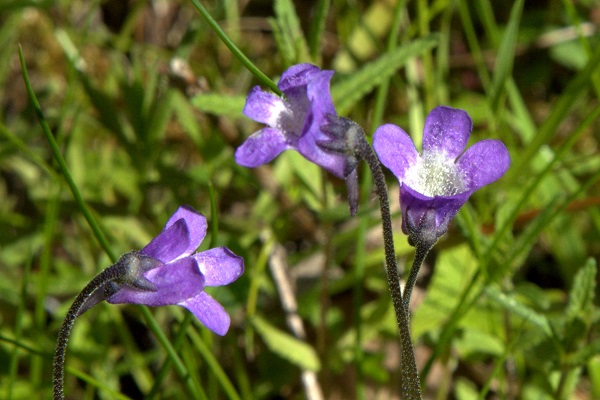 Derivation of the botanical name:
Pinguicula, Latin pinguis, bold, referring to the leaf surface that feels oily and shiny.
vularis, Latin vulgus, ordinary.
The standard author abbreviation L. is used to indicate Carl Linnaeus (1707 – 1778), a Swedish botanist, physician, and zoologist, the father of modern taxonomy.

Pinguicula, commonly known as the butterworts, is a genus of carnivorous plants that use sticky, glandular leaves to lure, trap, and digest insects in order to supplement the poor mineral nutrition they obtain from the environments.