Primula veris, Primula officinalis, SE: Gullviva, DE: Echte Schlüßelblume,
NL: Gulden sleutelbloem, UK: Common cowslip
Scientific name:

Primula veris L.

Synonym name:

Primula officinalis Hill

Swedish name:

Gullviva

German name:

Echte Schlüßelblume

Nederlandse naam:

Gulden sleutelbloem

English name:

Common cowslip

Family:

Primulaceae, Primrose family, Viveväxter
Life form:

Perennial herb

Stems:

Height 15–30 cm; Stem leafless, hairy

Leaves:

Basal rosette of leaves, dentate

Flowers:

Corolla yellow, funnel shaped; calyx bristly, yellowish-greenish, lobes short-tapered, with tips

Flowering Period:

May-June

Fruits:

Capsule, elongated, ovalish, 5-valved, 11–15 mm long; seeds flat, dark, granular

Habitat:

In meadows, grassland and forests on humus soil, and prefers calcareous soils.

Distribution:

Southern and central Sweden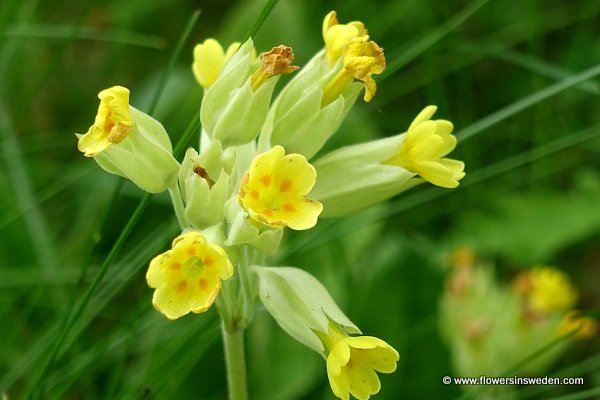 Derivation of the botanical name:
Primula, Latin primus, first and refers to the species bloom early.
veris, Latin word for the season of spring.
The standard author abbreviation L. is used to indicate Carl Linnaeus (1707 – 1778), a Swedish botanist, physician, and zoologist, the father of modern taxonomy.
The standard author abbreviation Hill is used to indicate John Hill (c. 1714 – 1775), English writer and botanist who compiled the first book on British flora to be based on the Linnaean nomenclature.