Pyrola rotundifolia, SE: Vitpyrola, DE: Rundblättriges Wintergrün,
NL: Rond wintergroen, UK: Round-leaved Wintergreen
Scientific name:

Pyrola rotundifolia L.

Swedish name:

Vitpyrola, vintergröna

German name:

Rundblättriges Wintergrün

Nederlandse naam:

Rond wintergroen

English name:

Round-leaved Wintergreen

Family:

Ericaceae, Heath family, Ljungväxter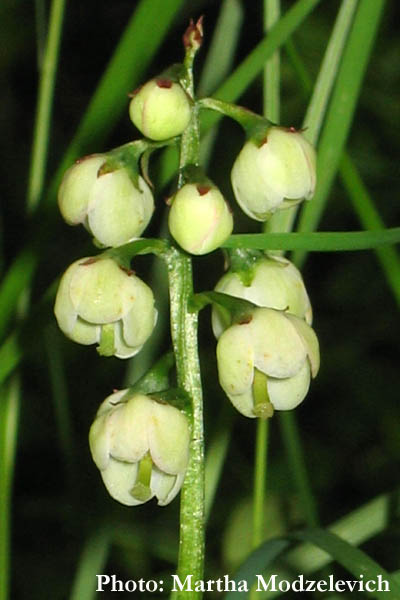 Location: Hammarstrand
Life form:

Evergreen perennial

Stems:

Ascending, 20-30cm high, 3-angular, with embraced, prolonged lanceolate scales above

Leaves:

Rosette, opposite, c 1.5-5 cm

Flowers:

8-15 White flowers on 15 to 30 centimeters high stems

Flowering Period:

June, July, August

Fruits:

Semitransparent pouches with spherical seeds

Habitat:

Woods, thickets, heathland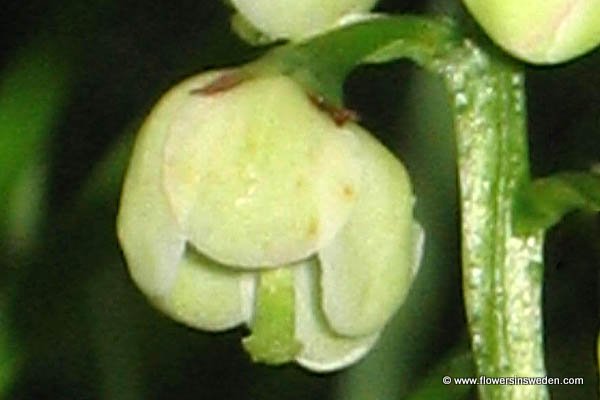 Derivation of the botanical name:
Pyrola, pear-like, from the Latin diminutive of Pyrus, meaning "pear," for the pear-like leaf shape, and a genus commonly called shinleaf or wintergreen.
rotundifolia, rotund, "round, spherical," i, connective vowel used by botanical Latin,and foli, "leaf".
The standard author abbreviation L. is used to indicate Carl Linnaeus (1707 – 1778), a Swedish botanist, physician, and zoologist, the father of modern taxonomy.