Ranunculus peltatus, SE: Sköldmöja, DE: Schild-Wasserhahnenfuß,
NL: Grote waterranonkel, UK: Pond Water-crowfoot
Scientific name:

Ranunculus peltatus Schrank

Swedish name:

Sköldmöja

German name:

Schild-Wasserhahnenfuß

Nederlandse naam:

Grote waterranonkel

English name:

Pond Water-crowfoot

Family:

Ranunculaceae, Crowfoot family, Ranunkelväxter
Life form:

Perennial water plant

Stems:

Up to 200 cm, green or off-white

Leaves:

Submerged leaves, 3–5 lobed, lobes thread-like; floating leaves, kidney-shaped-roundish,3-5 lobes

Flowers:

Long-stalked, above water; regular corolla, white and yellow at base of petals, 5 overlapping petals

Flowering Period:

May, June, July, August, September

Fruits:

Achene; hairy or bare

Habitat:

Nutrient-rich lakes and rivers

Distribution:

Skåne to Torne Lapland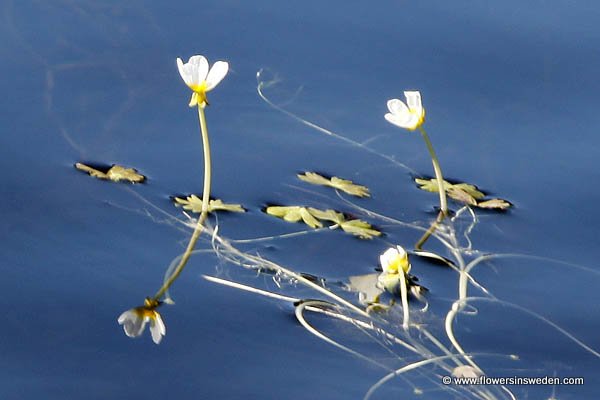 Derivation of the botanical name:
Ranunculus from Latin rana, "little frog," because many species tend to grow in moist places.
peltatus, pelta, πελτη, a small shield used by the Thracians; shield like, peltate.
The standard author abbreviation Schrank is used to indicate Franz Paula von Schrank (1747 – 1810), a German botanist and entomologist.
The standard author abbreviation L. is used to indicate Carl Linnaeus (1707 – 1778), a Swedish botanist, physician, and zoologist, the father of modern taxonomy.