Rheum rhabarbarum, SE: Rabarber, DE: Gemeiner Rhabarber,
NL: Rabarber, UK: Rhubarb
Scientific name:

Rheum rhabarbarum L.

Swedish name:

Rabarber

German name:

Gemeiner Rhabarber

Nederlandse naam:

Rabarber

English name:

Rhubarb

Family:

Polygonaceae, Knotweed family, Slideväxter
Life form:

Perennial

Stems:

Thick red stalks (up to 5 cm) stems and thick petioles (up to 2-3 cm)

Leaves:

Basal rosette, triangular-shaped leaves with long fleshy petioles. T

Flowers:

Hermaphrodite; 6 white-green or yellow-white tepals

Flowering Period:

May, June

Fruits:

Achenes, one seeded, trigonous, with angles, wings submembranous, brown or henna

Habitat:

Rhubarb is a cultivated species that can sometimes be encountered persistent or temporary wild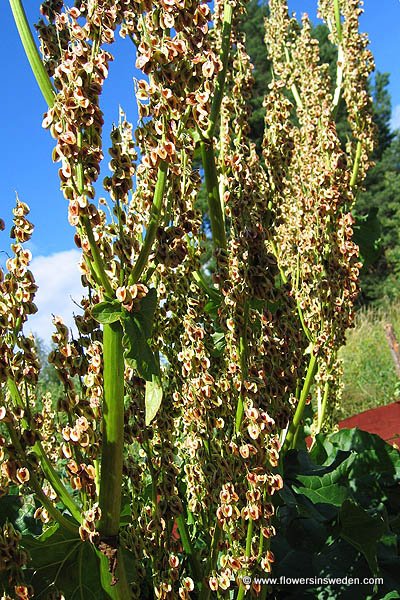 Derivation of the botanical name:
Rheum, Greek rhēon or rha for "roots and rhizomes" of rhabarbarum : rha, rhubarb (from Greek rhā , perhaps from Rhā, the Volga River.
rhabarbarum, literally the rhubarb of foreigners; Long ago, on the banks of the river Rha (the modern Volga), barbarian tribes were familiar with a plant with red-green succulent stalks that grew along the river. The plants from the Rha of the barbarians became the Latin "rhabarbarum", root of the modern English "rhubarb.
The standard author abbreviation L. is used to indicate Carl Linnaeus (1707 – 1778), a Swedish botanist, physician, and zoologist, the father of modern taxonomy.