Solidago canadensis, SE: Kanadensiskt gullris, kanadagullris,
DE: Kanadische Goldrute, NL: Canadese guldenroede,
UK: Canadian Goldenrod
Scientific name:

Solidago canadensisL.

Swedish name:

Kanadensiskt gullris, kanadagullris

German name:

Kanadische Goldrute

Nederlandse naam:

Canadese guldenroede

English name:

Canada Goldenrod

Family:

Asteraceae - Compositae, Aster family, Korgblommiga växter
Life form:

Perennial

Stems:

Height 30-150 cm, erect, arching at the top; pubescent

Leaves:

Alternate, lanceolate to broadly linear; lanceolate, long attenuate, pubescent beneath, with margins mostly serrate, with 2 prominent lateral veins

Inflorescence:

Broad pyramidal panicle with a central axis and recurving branches; flowers on one side of stem

Flowers:

Tiny yellow flowerheads; disc florets usually fewer than ray florets; corolla 2.4-2.8 mm long

Flowering Period:

September, October

Fruits:

Achene, longitudinally ribbed, slightly hairy, small tufts of hair

Habitat:

cultivated land, as land, roadsides, railway embankments

Distribution:

xx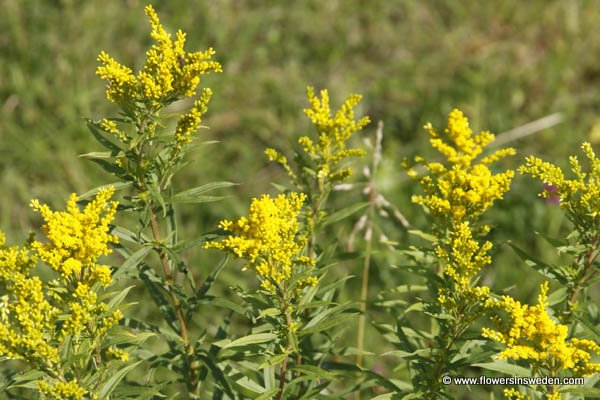 Derivation of the botanical name:
Solidago, from Latin solidare, to join," or "to make whole". This indicates that it once had a reputation as a healer.
canadensis, of or referring to Canada.
The standard author abbreviation L. is used to indicate Carl Linnaeus (1707 – 1778), a Swedish botanist, physician, and zoologist, the father of modern taxonomy.