Taraxacum officinale, SE: Maskros, DE: Gewöhnlicher Löwenzahn,
NL: Paardenbloem, UK: Common Dandelion
Scientific name:

Taraxacum officinale F.H. Wigg

Swedish name:

Maskros

German name:

Gewöhnlicher Löwenzahn

Nederlandse naam:

Paardenbloem

English name:

Common Dandelion

Family:

Asteraceae / Compositae, Korgblommiga växter
Life form:

Herbaceous perennial, hemicryptophyt

Stems:

Leafless, hollow, pubescent under calathide head, with milky juice channels; height 5-50 cm; can be tinted purplish

Leaves:

Rosette, lanceolate or oblong, runcinate incised, from the entire irregular-dentate leaves up to the deep-pinnatipartite leaves with narrow lateral shares, upperleaf sometimes naked, underleaf more often pubescent; 5-40cm.

Flowers:

Hermaphrodite; yellow, ligulate, internal and tubular florets

Flowering Period:

May, June

Fruits:

Light-brown achene with a pappus-cop (6-10 mm) with simple white hair on a long thin leg

Habitat:

Throughout the country; along roads, trails, garden, park, urban, waste ground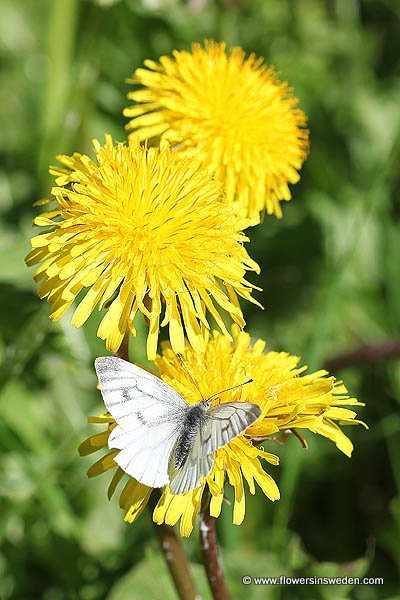 Derivation of the botanical name:
Taraxacum, medieval name traceable through Arabic to the Persian talkh chakok, meaning "bitter herb".
officinale, officina, herb pharmacy; alias, of or pertaining to; sold as an herb; medicinal.
The standard author abbreviation F.H. Wigg is used to indicate Friedrich Heinrich Wiggers (1746 – 1811) , a German botanist.