Trollius europaeus, SE: Smörboll, DE: Trollblume ,
NL: Europese trollius, UK: Globeflower
Scientific name:

Trollius europaeus L.

Swedish name:

Smörboll

German name:

Trollblume

Nederlandse naam:

Europese trollius

English name:

Globeflower

Family:

Ranunculaceae, Buttercup Family, Ranunkelväxter
Life form:

Perennial herb

Stems:

Height up to 60 cm, erect, unbranched

Leaves:

Alternate, basal leaves long-stalked, stem leaves short-stalked–stalkless; basal leaf blades roundish, usually deeply 5-lobed, lobes pinnatifid–large-toothed; stem leaf blades smaller and with narrower lobes

Flowers:

Solitary or as 2–3-flower cymes; yellow ball-shaped flower up to 3 cm across

Flowering Period:

May-June

Fruits:

Follicle contains many shiny black seeds

Habitat:

Damp soils and is more common in calcareous soils

Distribution:

North and most common in the mountain regions, but occur rarely down in Skåne. The species is missing in Gotland.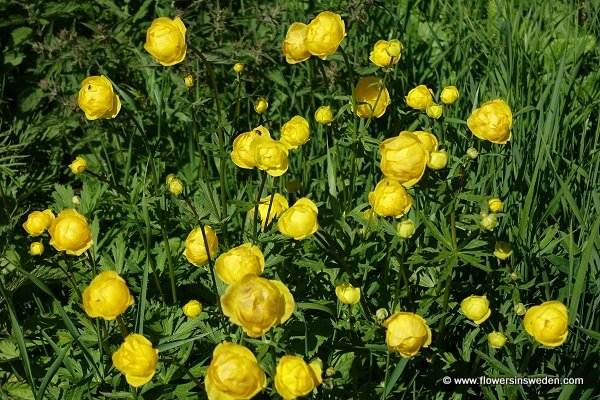 Derivation of the botanical name:
Trollius, first used by the German Gesner in 1542, the name was formed after the German name Troll Blume.
europaeus Latinising of Europe.
The standard author abbreviation L. is used to indicate Carl Linnaeus (1707 – 1778), a Swedish botanist, physician, and zoologist, the father of modern taxonomy.