Tulipa sylvestris, SE: Vildtulpan, DE: Wilde Tulpe,
NL: Bostulp, UK: Woodland tulip
Scientific name:

Tulipa sylvestris L.

Swedish name:

Vildtulpan

German name:

Wilde Tulpe

Nederlandse naam:

Bostulp

English name:

Woodland tulip

Family:

Liliaceae, Lily Family, Liljeväxter
Life form:

Perennial herb, Onions

Stems:

Height 15-30 cm xx

Leaves:

Alternate, simple, lanceolate, bluish green, with entire margins

Flowers:

7-8 cm wide with pointed, bright yellow lime leaves, green or reddish on the outside

Flowering Period:

May, June

Fruits:

Loculicidal capsules

Habitat:

Terrestrial, meadows, fields

Distribution:

From Skåne to Uppland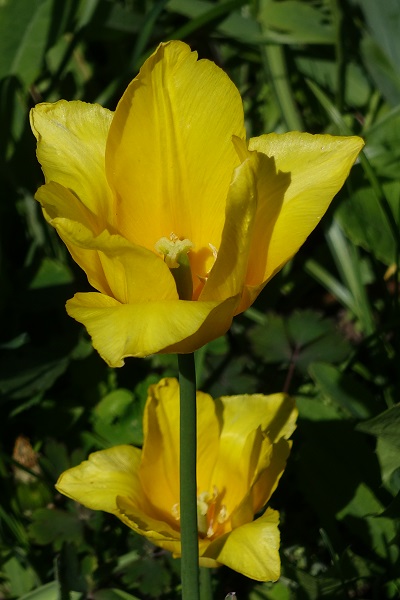 Derivation of the botanical name:
Tulipa, from the Persian word "thuliban" or "dulbend", meaning "a turban". This evolved into the Turkish "dulbend" and "tulbend, Latin "tulipa" and English "tulip".
sylvestris, pertaing to woods, growing wild.
The standard author abbreviation L. is used to indicate Carl Linnaeus (1707 – 1778), a Swedish botanist, physician, and zoologist, the father of modern taxonomy.