Urtica urens, SE: Etternässla, DE: Kleine Brennnessel, Eiternessel,
NL: Kleine brandnetel,UK: Small nettle, Dwarf stinger, Dog nettle
Scientific name:

Urtica urens L.

Swedish name:

Etternässla

German name:

Kleine Brennnessel, Eiternessel

Nederlandse naam:

Kleine brandnetel

English name:

Small nettle, Dwarf stinger, Dog nettle

Family:

Urticaceae, Nettle family, Nässelväxter
Life form:

Therophyte, annual

Stems:

Height 10–50 cm, branching stem, stinging hairs (knob-like tip of the hair comes of at contact, and the hollow needle penetrates the skin releasing a burning acid mixture)

Leaves:

Opposite, entire, elliptic to broadly elliptic, dentate or serrate

Flowers:

Green, unisexual, staminate and pistillate in same inflorescence

Flowering Period:

June, July

Fruits:

Oval to pear-shaped, flat, yellowish-brown achene

Habitat:

Throughout the country; in Northern Sweden rare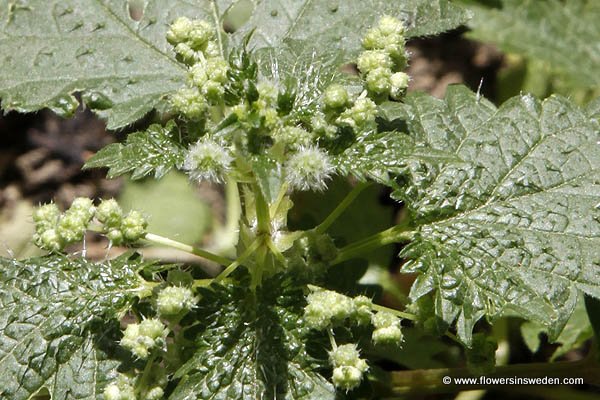 Derivation of the botanical name:
Urtica, uro, I burn, alluding to the nettle's sting; stinging nettle. Their capability to sting makes them useful for metaphors.
In the Bible three different Hebrew names are quoted: Sirpad (סרפד)- in Isaiah 55:13; Seravim (סרבים)- in Ezekiel 2:6; Harul (הרול)-Zephaniah 2:9. They are synonyms, the roots s-r-f and h-a-r both meaning 'scorching' or 'burning'.
urens, Latin urere, to burn, and refers to the stonging hairs.
The standard author abbreviation L. is used to indicate Carl Linnaeus (1707 – 1778), a Swedish botanist, physician, and zoologist, the father of modern taxonomy.
The Romans used the Urtica for "urtication", beating with nettles to encourage blood to the surface, which they did to keep themselves warm and to relieve the pain of arthritis.
Dioscorides (ca. 40-ca. 90), the ancient Greek physician, advocated this nettle and its relative, Urtica dioica, as a treatment for festering wounds, nosebleeds, and delayed menstruation.



In the following old children's rhyme, "Hitty Pitty" means Nettles.


Hitty Pitty within the wall,
Hitty Pitty without the wall;
If you touch Hitty Pitty,
Hitty Pitty will bite you.