Valeriana sambucifolia, SE: Flädervänderot,
DE: Holunderblättriger Baldrian, NL: Vliervaren,
UK: Common Valerian
Scientific name:

Valeriana sambucifolia J. C. Mikan

Swedish name:

Flädervänderot

German name:

Holunderblättriger Baldrian

Nederlandse naam:

Vliervaren

English name:

Common Valerian

Family:

Valerianaceae, Valerian family, Vänderotsväxter
Life form:

Perennial herb

Stems:

Height 50-100 cm, branching, bristly, grooved, glabrous or lower part hairy, hollow, greenish–brownish, sometimes reddish

Leaves:

Opposite, stalked; blade pinnate, with 3–8 pairs and terminal leaflet; leaflets toothed, strong-veined, terminal leaflet usually broader than lateral leaflets

Inflorescence:

Umbellate compound cyme

Flowers:

Corolla slightly irregular (zygomorphic), pale purple–white, 4–8 mm long, fused, funnel-shaped, base slightly distended, 5-lobed. Calyx small, collar-like. Stamens 3. Gynoecium composed of 3 fused carpels

Flowering Period:

June, July, August

Fruits:

Achene, egg-shaped, glabrous, downy

Habitat:

Moist woodlands, wet meadows, beaches

Distribution:

Throughout the country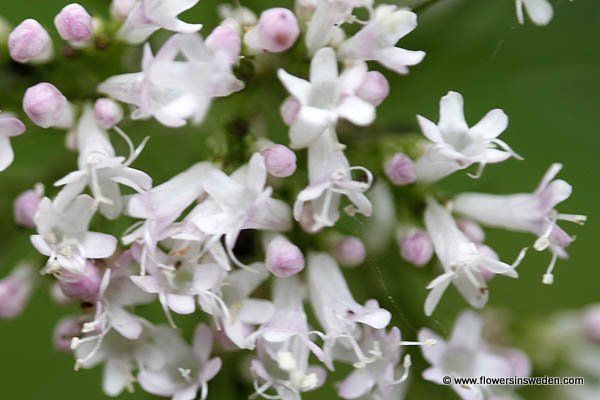 Derivation of the botanical name:
Valeriana, possibly from Latin valere, "to be healthy" from its use as a folk medicine in the treatment of nervousness and hysteria.
sambucifolia, with leaves like elder or Sambucus.
The standard author abbreviation J.C.Mikan is used to indicate Johann Christian Mikan (1769 - 1844), a Czech Austrian botanist, zoologist and entomologist.