Veronica officinalis, SE: Ärenpris, DE: Echte Ehrenpreis, Wald-Ehrenpreis,
NL: Mannetjesereprijs, UK: Heath speedwell, Common speedwell,
Common gypsyweed, Paul's betony
Scientific name:

Veronica officinalis L.

Swedish name:

Ärenpris

German name:

Echte Ehrenpreis, Wald-Ehrenpreis

Nederlandse naam:

Mannetjesereprijs

English name:

Heath speedwell, Common speedwell, Common gypsyweed, Paul's betony

Family:

Plantaginaceae, Plantain Family (formerly Scrophulariaceae - Figwort Family), Lejongapsväxter
Life form:

Perennial

Stems:

Height 10-30cm, limp–ascending, branching, rooting, soft-haired

Leaves:

Opposite, short-stalked. Blade elliptic–ovate, with tapered base, hairy, finely toothed.

Flowers:

Inflorescence a dense axillary raceme; corolla pale blue–purple, almost regular (actinomorphic)

Flowering Period:

June-August

Fruits:

Capsule

Habitat:

Dry slopes, hillocks, clearings and in wooded areas

Distribution:

Throughout the country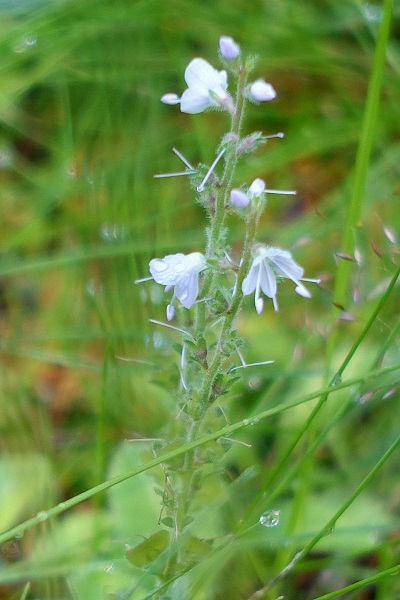 Derivation of the botanical name:
Veronica, named for the woman who took her veil, or a linen cloth, and wiped the sweat from the face of Jesus as he was bearing his cross to Calvary, and so named because the markings on some species supposedly resemble those on her sacred handkerchief.
officinalis, derived from opificina, shortened to officina, originally a workshop, later a monastic storeroom, then a herb-store, pharmacy or drug-shop.
The standard author abbreviation L. is used to indicate Carl Linnaeus (1707 – 1778), a Swedish botanist, physician, and zoologist, the father of modern taxonomy.