Vicia cracca, SE: Kråkvicker, DE: Vogel-Wicke,
NL: Vogelwikke, UK: Tufted Vetch
Scientific name:

Vicia cracca L.

Swedish name:

Kråkvicker

German name:

Vogel-Wicke

Nederlandse naam:

Vogelwikke

English name:

Tufted Vetch, Cow Vetch, Bird Vetch

Family:

Fabaceae, Ärtväxter
Life form:

Perennial climbing vine

Stems:

Limp, climbing, branched, bristly, glabrous–short-haired

Leaves:

5 to 12 pairs of opposite leaflets with an apical tendril. Apex of each leaflet pointed

Flowers:

Purple, violet flowers in long racemes

Flowering Period:

June, July, August

Fruits:

10–25 mm long, flattish, glabrous, brown, 1-parted, 4–8-seeded legume

Habitat:

Forests, thickets, coast, pastureland, meadows, farmland, settlements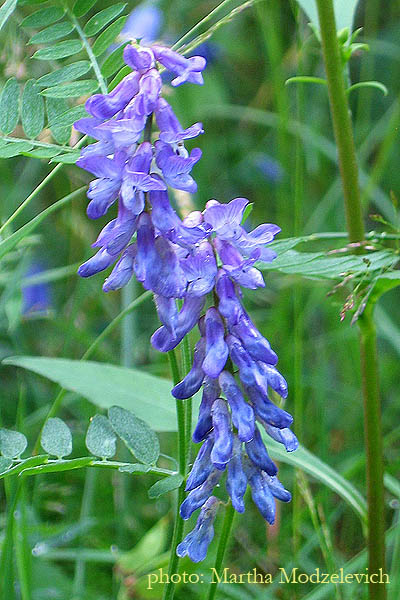 Derivation of the botanical name:
Vicia the classical Latin name for vetch.
cracca Latin name applied by Rivinius to this plant, the Italian name Cracca and French name Vesce craque.
The standard author abbreviation L. is used to indicate Carl Linnaeus (1707 – 1778), a Swedish botanist, physician, and zoologist, the father of modern taxonomy.