Viola canina, SE: Ängsviol, DE: Hunds-Veilchen,
NL: Hondsviooltje, UK: Heath Dog-violet or Heath Violet
Scientific name:

Viola canina L.

Synonym name:

Viola montana L.

Swedish name:

Ängsviol, hundviol, norrlandsviol

German name:

Hunds-Veilchen

Nederlandse naam:

Hondsviooltje

English name:

Heath Dog-violet, Heath Violet

Family:

Violaceae, Violväxter
Life form:

Herbaceous perennial

Stems:

Height 8–40 cm, leafy, limp–ascending–erect, branched–branchless

Leaves:

Basal leaf-rosette absent; leaves ovate to narrowly ovate and longer than broad

Flowers:

Rather broad pale blue petals that are slightly overlapping, two of the petals on the upside and three are on the downside; whitish-yellow spur; unscented flowers

Flowering Period:

May, June

Fruits:

3-valved capsule

Habitat:

Throughout the country, heaths, fens, and moist woodlands, especially on acidic soils.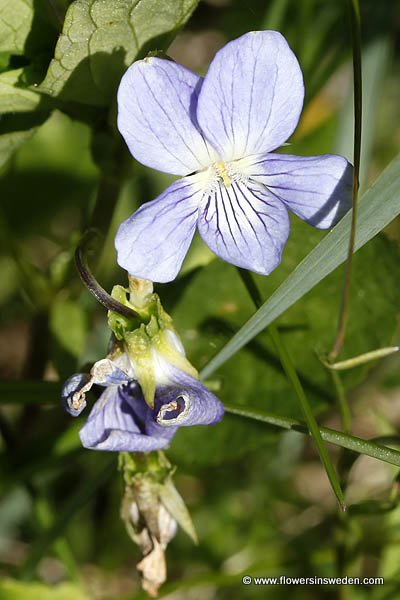 Derivation of the botanical name:
Viola, a classical Latin name for violets.
canina, of or pertaining to a dog; canine; of dogs; Dog-violet probably suggests that this violet was thought to be inferior to the scented violet.
montana, pertaining to mountains.
The standard author abbreviation L. is used to indicate Carl Linnaeus (1707 – 1778), a Swedish botanist, physician, and zoologist, the father of modern taxonomy.