Viola tricolor, SE: Styvmorsviol, DE: Wildes Stiefmütterchen,
NL: Driekleurig viooltje, UK: Wild Pansy, Heartsease
Scientific name:

Viola tricolor L.

Swedish name:

Styvmorsviol

German name:

Wildes Stiefmütterchen

Nederlandse naam:

Driekleurig viooltje

English name:

Wild Pansy, Heartsease, Johnny Jump-Ups

Family:

Violaceae, Violet family, Violväxter
Life form:

Annual, biennial and at times a short-lived perennial

Stems:

Height 8–25 cm, ascending–erect, usually branched, glabrous

Leaves:

ovate to lanceolate, dentate or serrate

Flowers:

Purple, blue, yellow or white

Flowering Period:

April, May, June, July, August, September, October

Fruits:

3-valved capsule

Habitat:

Coast, farmland, pastureland, settlements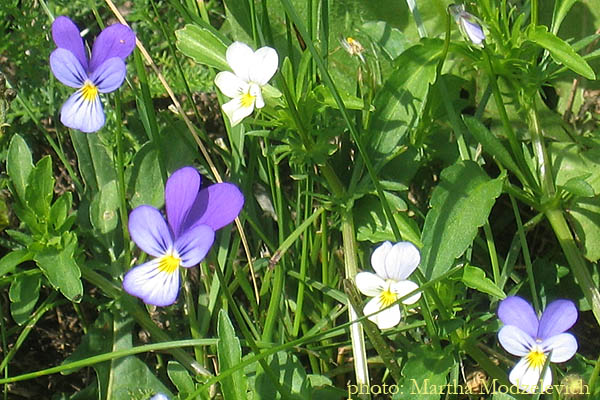 Derivation of the botanical name:
Viola a classical Latin name for violets.
tricolor, tri, "three" and color, "color", 3 colored.
The standard author abbreviation L. is used to indicate Carl Linnaeus (1707 – 1778), a Swedish botanist, physician, and zoologist, the father of modern taxonomy.
Pollen grains with 4 pores.
Viola tricolor is sometimes difficult to delimit from Viola arvensis, and especially from hybrids with this species.Sometimes the average number of pores on the pollen grains should be investigated.


John Gerard (1545 – 1611/12) considered Viola tricolor "of a temperature obscurely cold, but more evidently moist, of a tough and flimie juice...for which cause it moistneth and suppleth...."

John K'Eogh (c.1681-1754), wrote in his Irish Herball (1735) that Viola tricolor flowers "cure convulsions in children, cleanse the lungs and breast, and are very good against fever, internal inflammation and wounds."

In Western herbal medicine Viola tricolor is used as anti-inflammatory , antirheumatic, diuretic, expectorant, laxative, and stabalizes capillary membranes.